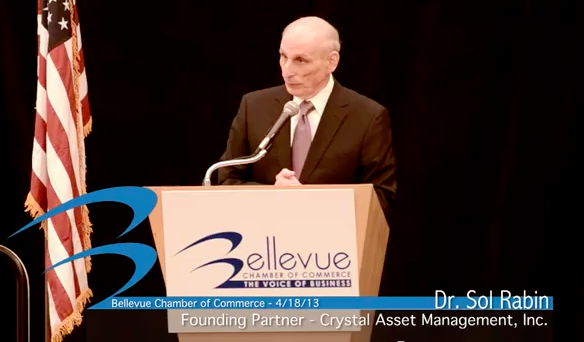 At a Bellevue Chamber of Commerce lunch meeting on April 18th Kemper Freeman Jr. and Dr. Sol Rabin took the stage at the Hyatt in Bellevue to discuss Bellevue's future.
In 1977 Kemper and his father attended a luncheon that was put on by the Chamber where Dr. Rabin discussed the importance of retail for the future success of Downtown Bellevue. Now over thirty-five years later Dr. Rabin was on stage to discuss how Downtown Bellevue can continue with, and improve on its success to date.
Here were some of the main takeaways from Dr. Sol Rabin's presentation:
Protect the retail. Office buildings and residential properties are here because of the great retail that have been attracted to the area. Protecting the retail means everything from attracting new and retaining existing retailers to maintaining free parking at Bellevue destinations.
The Chamber and the City can help to move mountains. They need to work together with a unified vision.
There is a vibrant Asian community present in Bellevue, specifically Indian and Chinese. This needs to be embraced and catered to.
Embrace the "Single life". More and more people are choosing not to have kids. Embrace this group; this group is a perfect match for the downtown Bellevue lifestyle that is full of great ammenities.
Chinese spend $102B in travel every year. Downtown Bellevue needs to continue to attract Chinese tourists by catering to their needs and wants. As the Chinese continue to ramp up their shopping behaviors the retailers will need to ramp up Mandrian speaking abilities. The Asian middle class wants to buy middle-class things, and the US produces more middle-class things than anybody in the world.
Cater to those that want to age gracefully. Downtown Bellevue is the perfect destination for retirees.
Build worthy amenities for homeowners and office workers alike. Building on the already great amenities will differentiate downtown Bellevue's offering from other cities and will attract new workers and residences alike.
Take a lead from world class cities. Build handsome streets like Paris. Create a shopping destination similar to Munich. Have nightlife like Berlin. Create 24/7 experiences like New York City. Build public space like Venice. Be welcoming like Amsterdam.
Dr. Rabin believes that this is Bellevue's time to shine, "Realize where we are. Few moments in history and lets the future in. This is one of those moments. The potential has never been greater. The obstacles have never been lower."