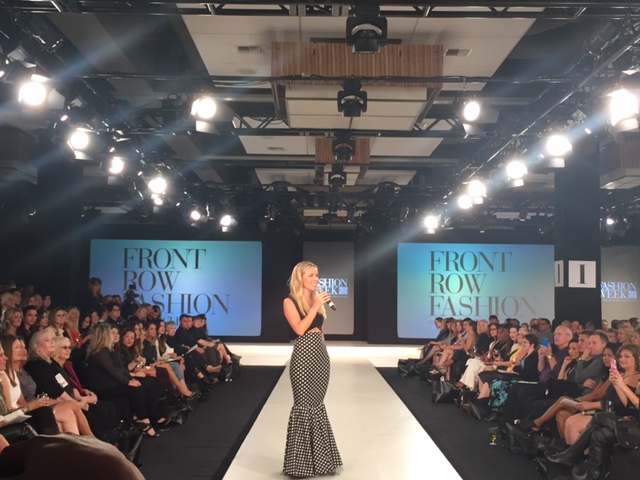 For one blissful week, Bellevue is a hotbed of anticipation and speculation that leads up to a glimmering debut of the hottest fall trends. All the hoopla is followed by hearty discussion about the most-buzzed-about movements in fashion. And why shouldn't it be? After all, it's Fall Fashion Week at the Bellevue Collection! From Sips and Suits, an evening designed to toast men's fashion, to the Independent Designer Runway Show, an affair that features talented, up-and-coming local designers, the event has something for everyone who takes even the slightest bit of enjoyment in dressing themselves. The week culminated in the Front Row Fashion Show which is a brilliant collaboration between the Bellevue Collection and Vogue Magazine to showcase fall fashion and benefit Seattle Children's Hospital. In fact, this year's event raised a total of $110,000 towards Seattle Children's – $60,000 from the event itself & $50,000 that was matched by another generous donor! That's incredible giving.
—
As a personal stylist, my hobby is clothes, so I'm almost always thinking about fashion. Fashion Week is one of the most fun times of the year for me. Getting ready for the Front Row Fashion Show was certainly no exception. After a few days of contemplating what to wear, I decided on a luxe cream sweater and high-waisted black trousers. Rounded out with black pumps, minimalistic nails, sleek hair, and simple makeup, I was ready for the event. I was going for effortless and chic. And considering I was going to the event as a member of the "press" (oooo!), I wanted to look the part. That's what clothes are good for, right? Looking the part? Driving to the event, I made mental notes about the ideas I wanted to corral. Trends for the upcoming season, notable items party-goers were wearing, and inspirational looks in the show all made the list. Upon walking up to the registration area, I was greeted with a kind hello. And then I noticed: Everyone looked fabulous. Classic black dresses, a few brightly colored jumpsuits, stilettos here and booties there. Jewel tones, blouses under dresses, marvelous textures. Remarkable fashion everywhere. I know that fashion shows can get a bad rap for being exclusive and elitist, but that moment was my gold because I realized that all the people gathered in that place at that time were super interested in fashion JUST LIKE ME. How exciting! How exhilarating! To be in the same room with all of these wonderful people who enjoy the beauty and form of clothing in the same way that I do. Pure delight.
Quickly thereafter, the doors opened and people began to shuffle to their seats. As I made my way to the press area with white wine in hand, I complimented a woman on her shoes, made note of all the forest green showing up in outfits, and smiled at about a million people. I was so happy. Fashion is so fun!
As I gabbed with some local fashion bloggers around me, the lights dimmed. The show was finally starting! And it didn't disappoint. Sophisticated lighting, dazzling clothing, stoic models, and impressive combinations of high- and mid-price point items all showed up on the runway. Brands like Zara, Aldo, 3.1 Phillip Lim, and Topshop paired with BCBG, Alexander Wang, Dries van Noten, Uniqlo, and Aritzia. Berets, mid-calf boots, bell sleeves. Outfits started coming at me like wild fire. Themes in the program like All Aflutter, Interior Motives, Sidewalk Stunners, and Night Moves came alive on the runway to showcase the most noteworthy trends of the season. For women, we saw feminine ruffles, bold metallics, and bohemian florals over and over again. Block heels, menswear, and patent leather were other styles that made several appearances throughout the night. For men, we saw high top sneakers, cropped pants, and an emphasis on comfort. Cara Crowley, the Market Director for Vogue and the host of the show, even mentioned her must-have piece for the season is the bomber jacket. Classy, yet unexpected: Always a great combination.
All in all, the show was 30 crowd-pleasing minutes of gorgeous clothing and attention-grabbing brand combinations. I was breathless. Bravo to the Bellevue Collection and Vogue Magazine for producing a wonderful Front Row Fashion show and the whole of a week dedicated to both fashion and philanthropy.
About the Author
Kelly Herzberg, owner and personal stylist at Sweet Kelly Anne Styling www.sweetkellyannestyling.com Kelly seeks to inspire self-love through fashion. In particular, she loves to help people feel confident and full of joy when getting dressed. She brings playfulness, empowerment, and a sense of fun into the process of buying clothes and wearing them. Kelly especially likes to create beautiful outfits with her incredible finds from thrift stores like Goodwill and Buffalo Exchange. She believes in kindness, deep connections, and living authentically. Outside of personal styling, she works with kids at Seattle Children's Hospital and likes to hang out with her husband, Jason. You can usually find her walking around Greenlake, engrossed in a conversation over a delicious meal, or treasure hunting at Goodwill.