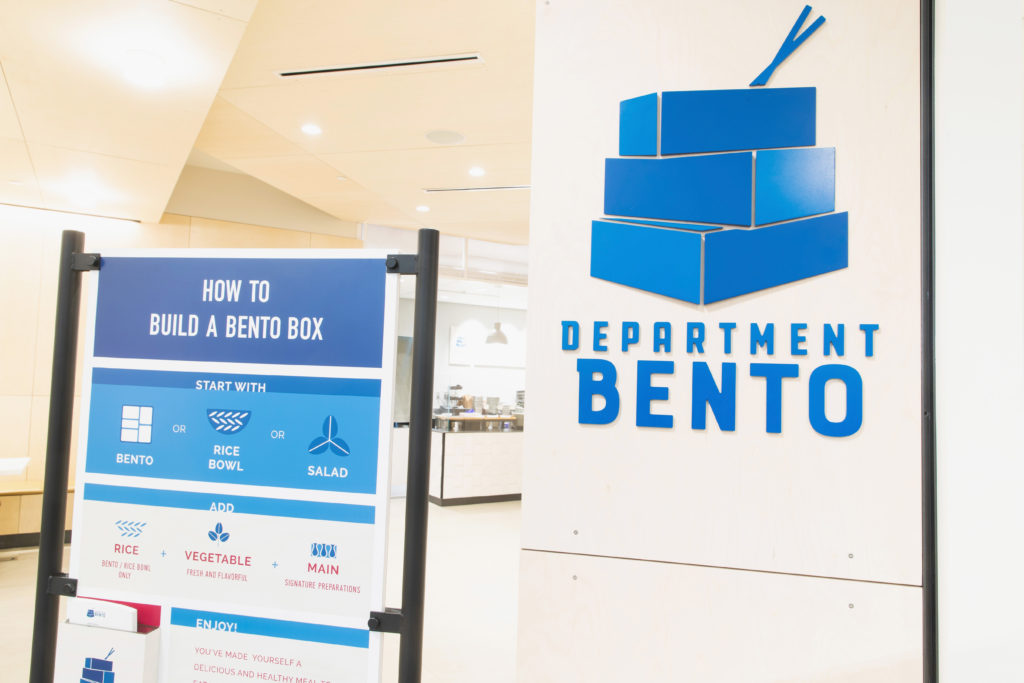 Department Bento, located on the second floor of Nordstrom Bellevue Square, opened earlier this week. The quick-serve restaurant is taking the place of Nordstrom Grill, which closed in early March.
Tom Douglas' new restaurant allows customers to dine on their own terms, according to Nordstrom vice president of restaurant operations, Vincent Rossetti. Each guest starts by choosing between a bento box, rice bowl or salad, and then adding rice, vegetable and a main like sockeye salmon and seared tofu. The menu also includes beverages and alcohol like Japanese sodas, iced coffees, wine, beer and sake slushies. Meals are priced ranging from $15 for seared tofu to $18 for teriyaki skirt steak.
Seating up to 70 people, Department Bento was designed by Seattle-based Graham Baba Architects. Featured throughout the restaurant are custom watercolor wall graphics by Acrylicize, an international artist group.
Nordstrom Bellevue also has other food and beverage options, such as; Espresso bar, Ebar, Marketplace Cafe and Habitant. The most recent addition, Habitant, a lounge offering cocktails and food, opened back in 2013.
This is the first partnership for Tom Douglas outside of the city of Seattle. Nordstrom has had in-store restaurants for over 35 years, and hopes that this bento-style restaurant is a great addition to their current portfolio of eateries.