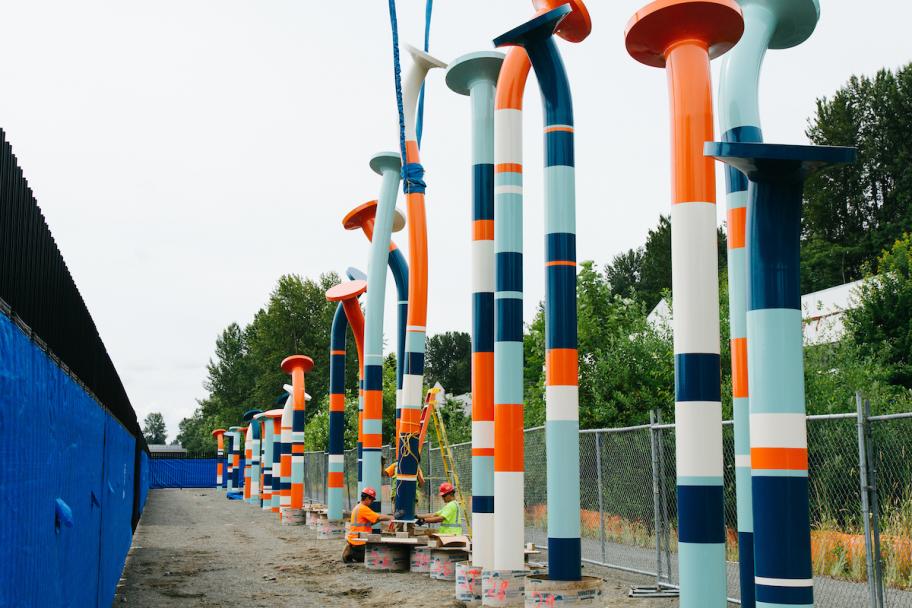 Sound Transit's Link light rail base in Bellevue has new artwork, located outside the security fence, along the Eastside Rail Corridor Trail.
There are 45 sculptural nails extending 480 feet. According to Sound Transit, the sculptures are metal poles that are shaped to look like tall bent nails, painted with stripes selected from four colors. The nails are 11.5 to 30 feet high.
The Los Angeles-based artist, Christian Moeller, built this art piece to create a solid wall of color, bringing to life the trail edge and partially screening the light rail base. It was influenced by the carnival game that consists of a race to pound nails into a log.
Moeller was chosen through an open national process. This included representatives from professional artists and Sound Transit, Bellevue Arts commissioner, Trudi Jackson, and local community members.
We reported in March that the East Link Light Rail project neared 50 percent completion. The length of East Link is more than 14 miles long that spans from Redmond, through Bellevue, and onto Mercer Island. The project is slated to reach completion in 2023.