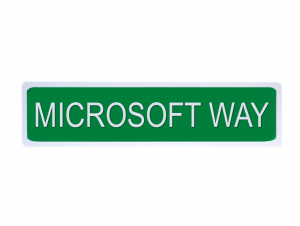 Microsoft Corporation, well known for its charitable giving, upped the ante today. In a move to stake claim in its high-tech home town, Microsoft has given $1.5MM to the City of Bellevue in exchange for the naming rights of street that has currently been known as 'Bellevue Way.' On April 15th, the street that runs as the North-South arterial through Downtown Bellevue will be renamed 'Microsoft Way.' Signage will be updated overnight.
Microsoft has an enormous footprint in Downtown Bellevue and occupies office locations at The Bravern, City Center, Bellevue Place, Civica, and Lincoln Square. The funds that the City of Bellevue receives from Microsoft will be put into the AFD Fund.
Click here for the full release from Microsoft.