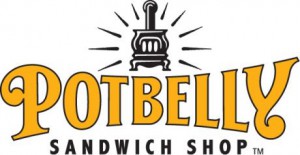 Potbelly Sandwich Shop will fill the final unoccupied retail location at the base of Bellevue Towers. A sign confirming the restaurant's occupancy was posted this week at the location. Potbelly Sandwich Shop was started in Chicago, Illinois in 1977, specializing in sandwiches and other comfort foods such as chili and freshly baked sweets.
What makes Potbelly different is its vintage and antique vibe. Every new store is unique and attempts to maintain the charm and heritage of the first store. There are currently over 200 stores throughout the US, predominately in the Midwest and on the East Coast.
The Potbelly website communicates the concept of its food best, "It's straight forward, great tasting, wholesome, comfort food." One of the most popular sandwiches is A Wreck made with Black Angus roast beef, old world salami, oven roasted turkey breast, hickory smoked ham, and melted Swiss cheese. Existing Potbelly locations price their sandwiches from $4.50 – $5.50.
The restaurant will be located on NE 4th Street, next to Barrio and the South Tower of Bellevue Towers. The restaurant is planned to open this summer.
—
9/30/11 Potbelly is now open>