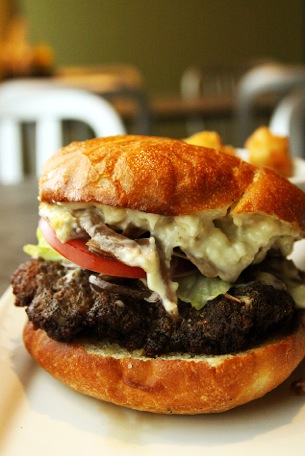 The grand opening of the Bellevue Lunchbox Laboratory had crowds pouring out the door, but as things settle into a normal pace, people still talk in hushed anticipatory tones of their next visit to indulge in an ultimate guilty pleasure. So what's the story behind this place? Why is there such a cult-like following behind Lunchbox Laboratory and what, exactly, is in their burgers?
It was a tiny burger shack when Lunchbox Laboratory first opened in Ballard in 2008. Small, quirky, rough around the edges, it was every bit the mad scientist lair, concocting unique pile-it-on burgers full of gusto and flavor. Owner and creator Scott Simpson was the mastermind behind Lunchbox Laboratory, composing deliciously experimental combinations like adding peanut butter or a rich, gooey fried egg atop a burger, all through a nostalgic vision – like the current locations, the original shop was full of vintage metal lunchboxes decorated with favorite movies and TV shows of the 1970s and 80s. Lunchbox Laboratory's popularity grew it out of its original spot, reopening in a larger South Lake Union location. The history of Lunchbox Laboratory isn't without a note of sadness, as Scott Simpson passed away in 2011. He is terribly missed, and his legacy of creating a whimsical food experience continues on through those who created alongside him in the kitchen. At the Bellevue location, there's a bit of the original neighborhood in the form of an old bowling lane from the closed Sunset Bowl in Ballard, rescued and refinished as a dining table. It's a nostalgia-loving tribute to the area and the man that first introduced people to how amazing burgers can be.
As for the hamburgers themselves, the eye-catching Burger of the Gods is one of Lunchbox Laboratory's signature choices, highlighting the level of attention and care going into the building of such a heavenly-titled feast. The best way to fully appreciate it is to break it down into its individual parts:
A large, hand-formed "super-beef" patty made up of the exclusive American Kobe-style beef is what all the Lunchbox beef burgers use. The higher fat concentration and its even distribution within the meat makes for a rich, juicy patty. The beef retains its delicate flavor as it's sealed in an incredible char-broiled seared crust that gives the burger its significant bite.
The burger is smothered in a melty, gooey blanket of bleu cheese crumbles and a gorgonzola spread, destined to require the service of several napkins while enjoying.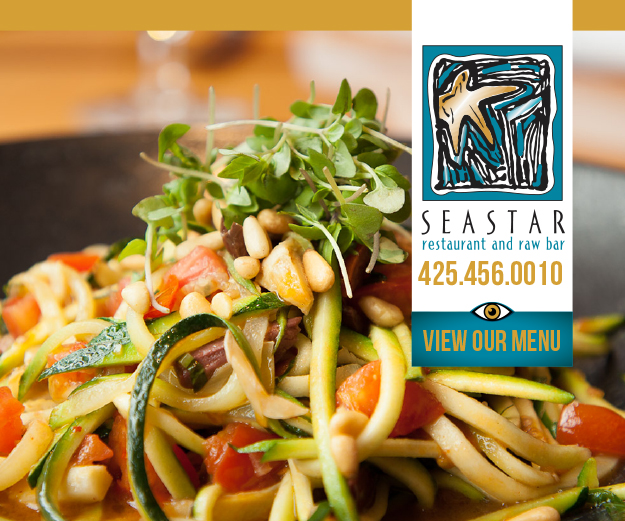 To counter the savory element of the earthy, creamy cheese, onions soaked in balsamic vinegar and slowly caramelized, add a natural sweetness with a mild bite of vinegar.
It takes a special kind of bread to properly contain their burgers, and Lunchbox uses a Kaiser bun made locally by Essential Bakery. A large dome-shaped bun with a crisp outer shell and sponge-like interior, it's the right vessel to carry a piled-high burger to one's hungry, awaiting mouth. Gluten-free buns are also available.
Each burger comes with a choice of sides: skinny fries, crispy tots, sweet potato fries, housemade chips or potato salad. The tater tots and sweet potato fries were an original from Lunchbox's early days, and no matter what you select, you can customize flavors using their menu of different salts, which includes garlic, habanero, bacon, rosemary, cinnamon spice and barbecue. Flavor creatively and with gusto, to match the burger you selected.
Prices for their burgers range from about $13 – $15.
Lunchbox Laboratory
989 112th Ave NE, Bellevue
425-505-2676
Open 11am-11pm daily
[nggallery id=70]