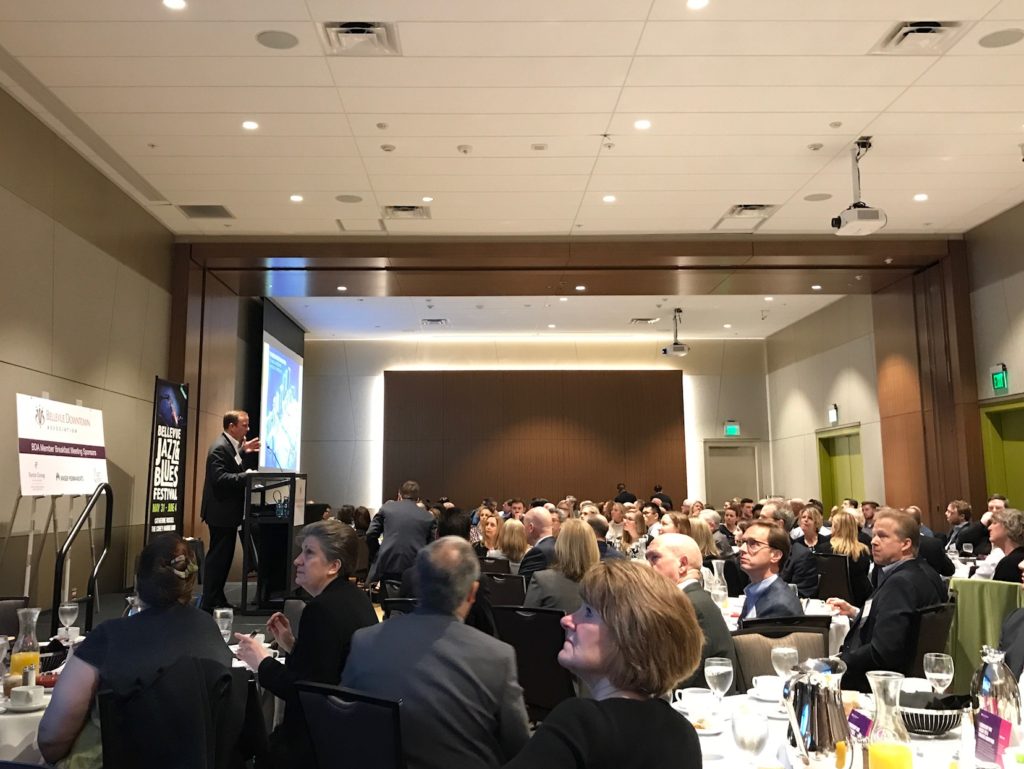 Kemper Development Company's Jim Melby and GLY Construction's Ted Herb spoke at the Bellevue Downtown Association's monthly breakfast meeting this morning. The topic was building Lincoln Square expansion, one of the largest private development projects in Bellevue's history.
Many interesting facts and figures, as well as some new retail and office tenants were discussed.
Information discussed by Jim Melby and Ted Herb regarding Lincoln Square's expansion:
Each parking stall costs $70,000 for the Kemper Development Company. According to Melby this cost is higher than normal because of the larger size stalls. There will be 2,0000 stalls at Lincoln Square expansion (that's $140M for parking alone).
The average apartment unit size is 1,400 sq. ft.
The project does not have any equity partners
Civility and Unrest will be the speakeasy that's a part of the W Hotel
Leica, the camera store in Bellevue Square had originally planned to move into Lincoln Square expansion, but according to Melby the retailer has had success at Bellevue Square and wants to stay there.
There will be a new coffee shop that will be going into Lincoln Square expansion.
There's a deal being finalizing for an entertainment concept, which has previously been discussed.
Baron's, a Chinese restaurant will go on the second floor.
With Lincoln Square expansion additions, there will be a total of 37 sit down restaurants and 80 places to get something to eat at The Bellevue Collection.
Peak workforce was 1,100 people daily.
Peak daily construction wages for the project: $7,000-8,000.
Construction took place 7 days a week on the project.
There's available office space on floors 3, 9, and 10. Floors 23-25 were just recently leased and are pending an announcement.
See all news regarding Lincoln Square expansion.