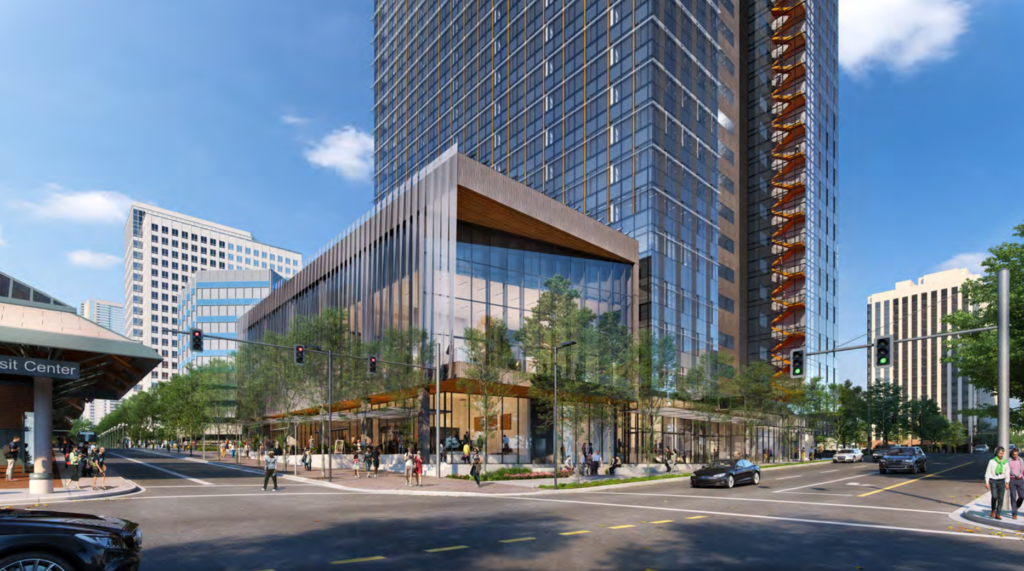 Renderings were recently made accessible by the City of Bellevue for Amazon's 43-story tower in Bellevue, Bellevue 600.
The site of the new development is located on the east half of the Bellevue Corporate Plaza property, that Amazon purchased in April 2019. The building will be the tallest in the city.
Bellevue 600 will be a new office and retail development. Phase 1 features a new office tower, meeting center, common space, retail uses and potential daycare facility, according to the Master Development Plan.
According to the permit, Bellevue 600 project is planned to be developed in two phases. The first phase will redevelop the east portion of the site and the second phase will be the redevelopment of the west portion of the site. Phase 1 will consist of constructing a 43-story office tower over six below-grade parking levels. Phase 2 will consist of the demolition of Bellevue Corporate Plaza and replacing it with a 33-story office tower.
Construction of phase 1 of the project is slated to begin in 2021. Building occupancy is expected in 2024.