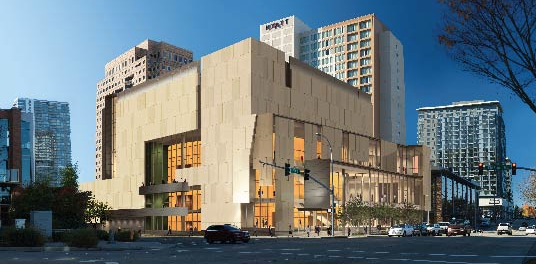 The Bellevue City Council previewed a feasibility study on Feb. 9 for the Tateuchi Center, a 2,000-seat performing arts center proposed for downtown Bellevue.
The Tateuchi Center could be financially feasible if it offers strong programming and if it makes a change to the design. A cabaret would need to be replaced with an education center, according to Steven Bronfenbrenner, a consultant hired by the city to conduct the feasibility study.
A non-profit organization called PACE (Performing Arts Center Eastside) has raised about $65 million for the performing arts center and spent $32.6 million in capital funds, according to a press statement. Bronfenbrenner reported that the venue needs another $138.4 million before construction can begin.
The Tateuchi Center would likely have an operating deficit starting at $750,000 the first year, which would drop to $250,000 by the fifth year, according to the feasibility study. Bronfenbrenner said that such a deficit is typical for performing arts centers across the nation.