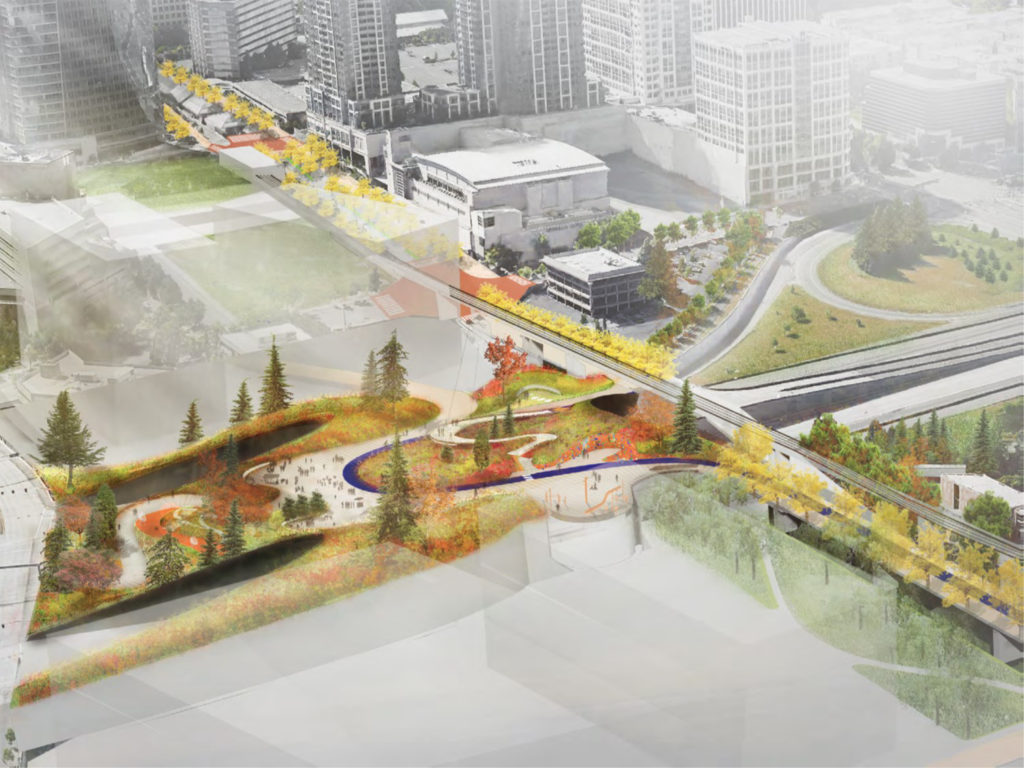 The City of Bellevue released their online open house for the I-405 crossing alternatives as part of the Bellevue Grand Connection Visioning Process.
The Grand Connection visioning consists of two sequences of work. The first discusses the improvement of existing infrastructure and public spaces between Meydenbauer Bay and the Civic Center District. The second reviews the crossing of I-405 and its interface with the Wilburton Commercial Area and the Eastside Rail Corridor.
The overall goal of the I-405 crossing segment of the Grand Connection aims to create a defining and signature link between Downtown Bellevue and the Wilburton Commercial Area. The objectives of the I-405 crossing include; connections to Downtown Bellevue, 116th  Avenue Northeast, and the Eastside Rail Corridor, safe and comfortable for pedestrians and cyclists, opportunities for public space, and a signature design.
The online open house includes three alternatives for crossing interstate I-405 that range in scale, complexity, and interface with surrounding infrastructure and neighborhoods. The three alternatives will then be incorporated into the Wilburton Commercial Area Environmental Impact Statement and will be released as the second volume to the Grand Connection Framework Plan.
The City of Bellevue invites you to view the three alternatives and to provide your feedback. There is also a poll asking which of the three alternatives you prefer. If you are interested, please visit the Bellevue Grand Connection website.