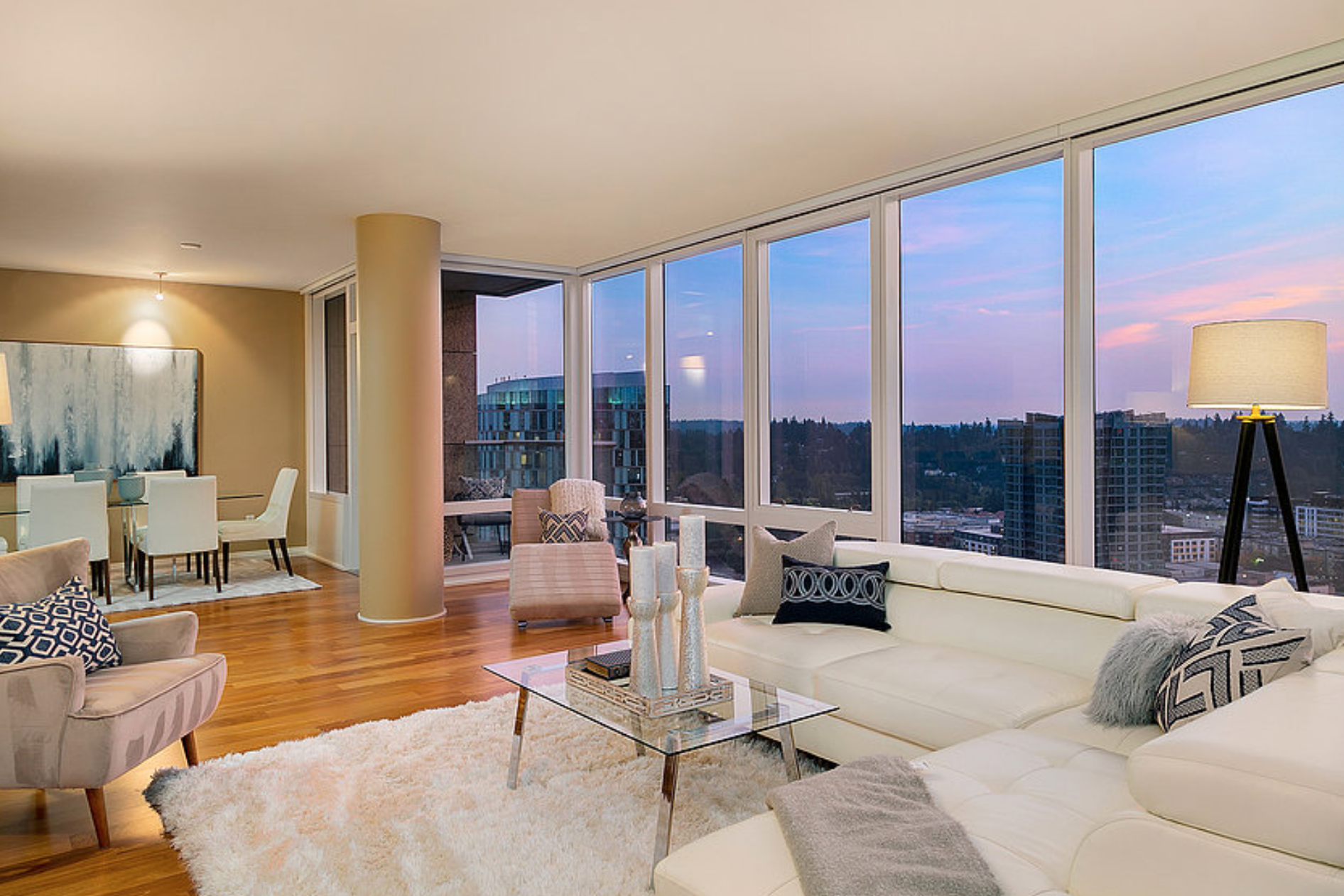 Pretty much everything you need to know about the downtown Bellevue condo market in 2020 can be summarized as follows: COVID-19 and One88. The pandemic had the most far-reaching impact on the market over the course of the year, but the delivery of the first newly completed condo tower to the market in over a decade made a big splash in the fourth quarter.
What were the major Downtown Bellevue condo trends for Q4 and for all of 2020?
The pandemic: The first and most important influence on the downtown condo market in 2020 was without a doubt the pandemic. As it began hitting in the spring, for-sale condo inventory initially remained low. Although some buyers were leery about purchasing a condo at the time, there were even more sellers worried about putting their condo on the market and getting exposed to COVID-19.
On the other hand, as we headed into late spring and early summer, the balance shifted. Sellers began to outnumber buyers, and condo inventory rose substantially through the summer and fall (albeit from extremely low levels).
At the margin, some condo buying and selling decisions may have been affected by concerns about sharing elevators and amenities in a condominium building during the pandemic. Much more significant, however, was the effect of being forced to stay home, while at the same time having the ability to work from a home in any location. As a result, a decades-long trend of people choosing smaller homes closer to work and urban amenities was suddenly thrown into reverse.
In a matter of months, some people who owned condos decided to sell and move to a lower-cost suburban or rural area (or a not so low-cost resort destination) where they could purchase a house and work remotely. Meanwhile, some people who might have otherwise considered buying a condo either put that decision on hold or went the other direction and moved to a larger house further away from the city. All of this added up to a year in which months of available condo inventory rose to highs not seen for 5 years (excluding new construction).
One88: Speaking of new construction, the second major influence on the downtown Bellevue condo market was the completion of the new One88 condominium project.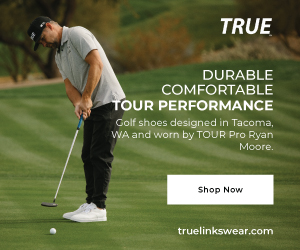 When One88 was first announced in 2018, it was slated to be the first new condo project to be built in downtown Bellevue in about 10 years. With less than a month of available condominium inventory available at the time, One88 experienced extraordinary demand from both local and international buyers alike, quickly pre-selling over 90% of the project at a significant premium to the prevailing pricing among existing condo towers.
Fast forward a couple of years and the completion of One88 took place in a very different environment, namely in the midst of a pandemic where some of the shine had come off condo living. Despite that, the majority of buyers did end up closing on their purchases at One88 (although some quickly turned around and put those units up for sale), and the closing of those 129 sales at record pricing of nearly $1,300/sf on average made the market look positively frothy at a time when the reality was distinctly more lackluster. And even if those sales were more reflective of the market when they were booked two years prior, as opposed to the late 2020 market in which they were closing, just getting them closed was a major achievement under the circumstances.
An even bigger test will be the pricing at which new sales happen in the building. The good news is that One88 was able to notch up a few new sales towards the end of last year and momentum early this year looks encouraging. On the other hand, I think those people looking to immediately flip their One88 units for 5-30% more than they just paid may struggle unless there is something particularly unique about the unit they are trying to sell.
At the risk of boring everyone, I also think it is useful to share a handful of stats to give a sense of how sales stacked up in 2020 as compared to 2019.
As you can see, if we exclude new construction condo sales, total unit and dollar sales both dropped in 2020 in comparison with 2019. On the other hand, the average price rose and pricing per square foot was stable year on year.
If there was any doubt about the difficulty of predicting the future, please see all forecasts written about 2020 approximately one year ago. But as I tap into my inner Nostradamus, I think there are a handful of trends we are likely to observe at least through the first half of the year.
The macroeconomic environment in terms of both fiscal and monetary policy will be supportive of the housing market, and strong local tech employment and net in-migration (especially from the Bay Area) should translate into robust housing demand generally.
Available single-family home inventory will remain extremely low, resulting in intense competition and upward pressure on prices. Condos may look more attractive as a result.
As the vaccine rolls out, it will allow employers to move toward a partial "work from work" model while the government loosens restrictions on dining, shopping, and entertainment. The combination of the "push" of working more frequently from the office, together with the "pull" of more activities being available in downtown Bellevue, should help remind buyers of the benefits of downtown living.
Condo buyers never went away during the pandemic, but there was a shift in the profile of buyers. Broadly speaking, younger, affluent professional and tech buyers dominated, while older downsizers were notably underrepresented. For that reason, we saw solid sales activity last year at price points under $1.5M, but experienced some softness at higher price points.
I am bullish about the prospects for the affordable end of the market in 2021 (if you can really call $1.5M affordable), but I think that in order for the upper end of the market to strengthen this coming year, some of those buyers who hit the pause button on downsizing last year will need to decide to sell their houses (for a pretty penny, I might add) and move downtown. That's my outlook for 2021, but let's talk again in 12 months and see if I was completely wrong or just partly wrong.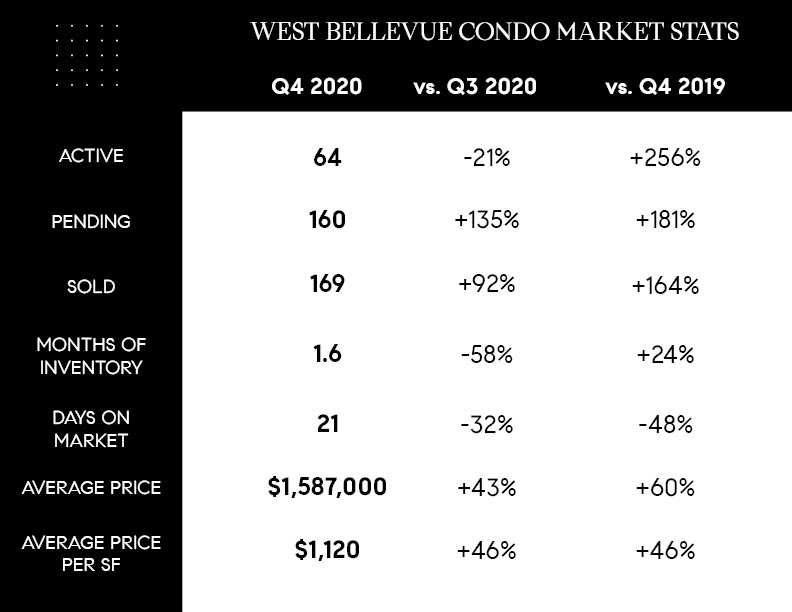 What are the other new condo construction projects in the pipeline?
There is currently just one new condo project announced officially, and that is Avenue Bellevue from Fortress Development. The project is comprised of an Intercontinental hotel, boutique retail plaza, and a 98 unit "Estate" tower featuring larger residences together with a 224 unit "Residence" tower with more efficient plans.
Avenue met with a positive reaction from the market upon its introduction in early 2019, and has continued pre-selling (albeit at an understandably slower pace) through the pandemic. The project is now under construction and is expected to be completed early in 2023.
We do expect to see some other new projects announced this year including ParqHouse, a 270 unit project at 305 108th Ave NE being developed by Fana, a 77 unit project by Bosa at 205 105th Ave NE, the name of which has not been officially released, as well as a 150 unit as yet unnamed condo project from Create World at 10232 NE 10th St.
Also, in a bit of shameless self-promotion, if you are looking for a boutique condominium community in downtown Bellevue, I am representing the 16 unit GIS Plaza project being built by GIS International at 999 110th Ave NE. Register to learn more at www.gisplaza.com.
Have a question about the downtown Bellevue condo market? You can contact Jason at [email protected].
Note: Sales data courtesy of NWMLS.