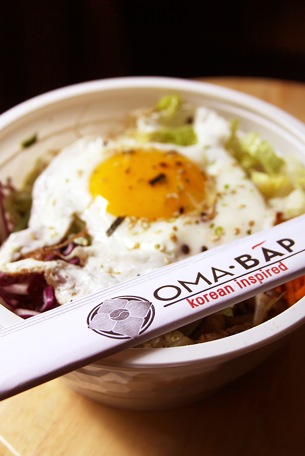 Downtown Bellevue is known for having a variety of cultural cuisines readily available, and appetites craving a distinctive flavor with a little kick of spice are in for a treat now that Oma Bap has opened its doors. Self-described as "Korean Inspired," Oma Bap offers a menu of traditional and modern twists on favorite dishes. The name itself implies a sense of comfort and home, with bap (pronounced "bop") meaning rice, a common staple in Asian cuisine, and oma (pronounced "um-ma") a loose translation of the word "Mom." The food isn't meant to be overly complex or intimidating – much like the friendly welcome of a mother, encouraging one to stay for a homecooked meal, Oma Bap is offering this same experience and hoping to introduce people to a new and delicious cuisine.
This is one of the few Korean restaurants to put itself on the downtown map. Its brightly colored logo is easy to see on Bellevue Way NE, between Main Street and 1st Street. Their atrium dining area is a bright, welcoming space to sit for a meal and the fast preparation time for all their menu items offer a schedule-friendly lunch option for busy professionals on their break. The food might be fast, but it's not typical fast-food; the vegetables are fresh, with offerings that go beyond a wilted shred of iceberg sitting on a burger, and the items are made to order, giving guests the opportunity to decide if they want something with meat or wish to have a vegetarian option, as tofu is available on most of the meat items.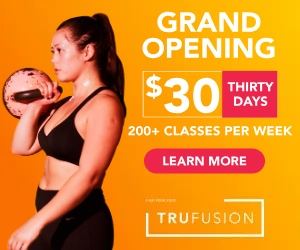 Oma Bap's casual dining experience is an opportunity for people to sample a style of food that many have not been exposed to, but after trying the dishes, people will quickly realize they're flavorfully familiar to other Asian foods, as they incorporate similar ingredients like garlic, ginger, soy sauce, but with a notable combination of stronger, more pronounced flavors. Korean food is rich and savory, with a deep sweetness. There is a bit of heat, as the spice of chili is infused in a lot of the sauces, but it's a warming, pleasant sensation that adds to the enjoyment of the dish.
As for what to order, definitely have the Korean classic, bibimbap (pronounced "bee-beem-bop"). It sounds exotic, but it's like a supercharged teriyaki rice bowl full of fresh vegetables, a choice of seasoned meats like chicken, beef, pork or tofu, and then topped with a fried egg and a drizzle of a spicy-sweet sauce. The fried egg topping is common in a lot of Korean dishes and having their bulgogi or beef-style bibimbap will make steak and eggs pale in comparison. There's another egg-style dish, the signature O-Bap, a specialty that mixes their colorful fried rice with vegetables, wrapped in an egg omelet and finished with their house sauce. For those seeking a noodle dish, get the jap chae (prounounced "jop-cheh"), a traditional stir-fry of noodles, vegetables and beef or tofu. You can get traditional sides like Mandoo (crispy pork-filled potstickers), jeon (prounounced "jun," they're egg pancakes with either vegetables or beef), or the most familiar Korean delicacy that wakes up any tasebuds — kimchi, spicy fermented cabbage. Oma Bap offers combination meals as well, if people want to sample multiple flavors that include different seasoned meats or kalbi beef shortribs, with sides of mandoo and a salad. You can also get a Korean version of sushi called kim-bap, seaweed-wrapped rice rolls filled with kimchi, spicy tuna or their seasoned beef. You can even get the Oma Kim-Bap, filled with the cult favorite, Spam.
Oma Bap's arrival is a flavorful signal of Bellevue's expanding good taste, adding another cultural star to its growing landscape of restaurants. It also shows that fast food can also mean healthy variety and deliciously rich flavor.
Oma Bap 120 Bellevue Way NE, 425-467-7000, Open Daily 11am-9pm
[nggallery id=58]