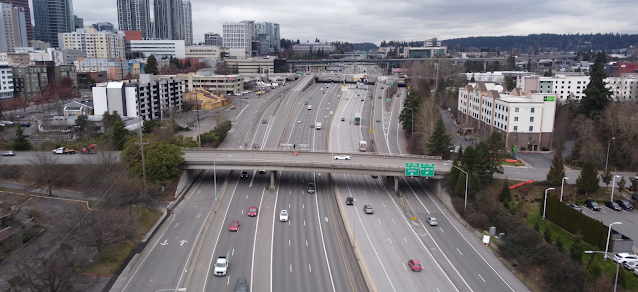 According to a press release from the Washington State Department of Transportation, the Main Street Bridge across Interstate 405 between 112th Avenue Northeast and 116th Avenue Northeast will be closed as of Monday, June 13th. The long-term bridge closure could last for up to five months while crews demolish and replace the bridge.
Signs will direct drivers, pedestrians, and bicyclists to nearby detours. A signed detour will be in place to Northeast 4th Street and drivers may choose alternative detour routes.
The bridge closure is the first part of a larger closure that will occur later in the week. The larger closure will be a full weekend highway closure of all lanes on I-405 between Northeast 4th Street and Southeast 8th Street in Downtown Bellevue. According to the press release, the highway closure is necessary for crews to safely demolish the Main Street Bridge.
The highway closure will begin Friday night, June 17th at 10pm. All lanes and ramps will reopen to traffic on Monday morning, June 20th. This closure could cause significant delays throughout the weekend.
For detour routes, visit the website.