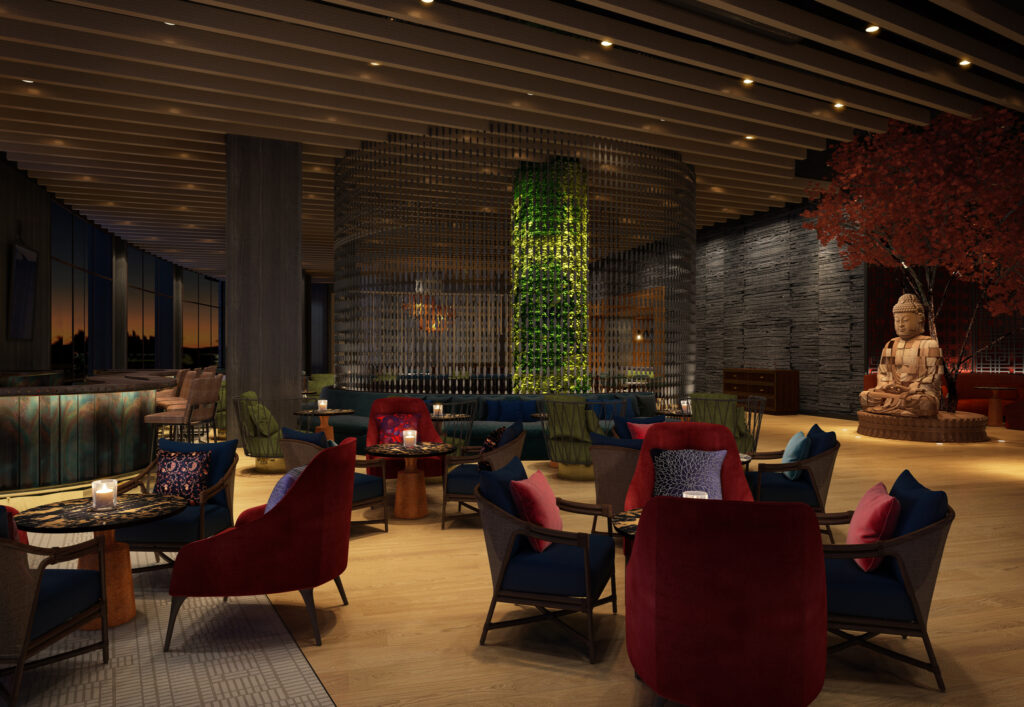 Bellevue-based developer, Fortress Development, recently announced new plans to Avenue Bellevue, the two-tower luxury property, hotel and retail development. BUDDHAzen will be an Asian, contemporary indoor/outdoor restaurant and bar for condo residents, hotel guests and nearby citizens.
The new Asian contemporary restaurant and bar are being developed by the same team responsible for Buddakan and Asia de Cuba in New York City, and China Grill. BUDDHAzen will be designed by Hospitality Alliance and Hirsch Bedner Associates. Diners can enjoy inventive menus, stylistic decor, and imaginative cocktails, similar to Budakkan and Tao. Chinese Feng Shui expert, Huang Dao, will help to guide the architecture team regarding the spiritual importance of water features in key locations throughout the restaurant and bar areas.
The restaurant and bar will be 11,000 square feet with private dining spaces, wine tasting room, grand staircase and lounge area complete with DJ booth.
According to Andy Lakha, Principal and CEO of Fortress Development, "BUDDHAzen combines beautiful architecture, rich decor, luxury experiences, delicious dining, and an enchanting nightlife experience for guests to enjoy and come back to time and again." He then goes on to say that "the BUDDHAzen restaurant, bar, and lounge pays homage to my South Asian heritage and the distinctive dining experiences I've enjoyed at Buddakan, Asia de Cuba, and China Grill with my family and friends. I'm looking forward to sharing this unique dining and nightlife space with the city of Bellevue and Avenue Bellevue residents in 2021."
Avenue Bellevue will have two towers with 330 luxury residences, as well as an Intercontinental Hotel, seafood restaurant, Angler, run by 3-Michelin Star Chef Joshua Skenes, four levels of underground parking, retail and more. The project will be located at Northeast 8th Street. Part of the development will be situated where Cost Plus World Market was previously.
This is the second restaurant announced for Avenue Bellevue. BUDDHAzen is slated to open in 2021.